She is implementing the portal "Mother's Lunch " with her 3plus family. "This portal is intended for all working mothers, mothers on maternity leave, nursing mothers and all those in whom 'mother's lunch' arouses a special emotion. In the sea of ​​everyday obligations that motherhood brings with it, the idea is to help you find the answer to the everyday question: What to cook for your family tomorrow?, explains 3plus mama Zrinka on her blog Mama's lunch .
For starters, introduce yourself to yourself and your 3plus family.
My 3plus family consists of my husband Ivan, sons Duje (8), Luka (6), Karlo (2) and me, Zrinka, blessed among the boys. We are a happy family that is never bored. With us, someone always cries, jumps, shouts, laughs. Silence is rarely felt. We love trips, picnics and staying in the fresh air. We love to plan family weekends and trips together. We spend minimal time in front of screens. We are more looking forward to staying in the woods, mountains, sea or on the children's playground. We have a lot of small and big friends with whom we spend our free time. We like to cook together and hang out at the table, which is the starting point of every conversation and the source of ideas.
How did the Mom's Lunch project come about ?
One day watching the children at the table, eating fine, decent, without nagging, I thought to myself – I succeeded! All three children at some stage were picky about food, and also allergic to eggs, milk and nuts. The picture was not as idyllic as it is today. Watching them, I was proud to instill healthy eating habits in them. And then the idea came to me – let's be an inspiration! Let's show others how we cook together and how important it is for children to eat a cooked meal every day. And that's how Mom's lunch came about. There was no question. "How? When? Will we succeed? Do we have time for that? ". We just started and all the dice were arranged as if we had been coming up with an idea for years, and not as if it came about in an instant.
The two older sons were thrilled with the idea. I can say that they are the drivers of everything, because I ask them for advice many times and they always give me the childish, honest answer I need, which I would never think of, because we adults in the head complicate the simplest thing. I am aware of the importance of a healthy and balanced diet on a child's health and I want other mothers to be encouraged to cook for and together with their children. Sentence: I don't have time! – is not an excuse. Indeed, it is not necessary to stand by the stove for two hours to offer families a quality meal. We can serve it in less than 45 minutes, and we all have that much time in the day, right?
We live at a hectic pace, we eat off our feet, and we see our family along the way. The purpose of mom's lunch is to gather the family at the table, turn off the television, remove cell phones, eat and talk to their loved ones. In this way, we create healthy habits, connections and invest in the future of our children. Like all mothers, I do many chores during the day and I can say that Mom's lunch really makes me happy and fulfilling. Everyone asks me: How do you get all this? I don't know how, but I get there because I love it and I want to. I can write until late at night, when I can barely look. But then I have the most peace and it really makes me happy and it's not hard for me. It makes me happy to create a new, positive story with my children, and along the way we spend quality time together.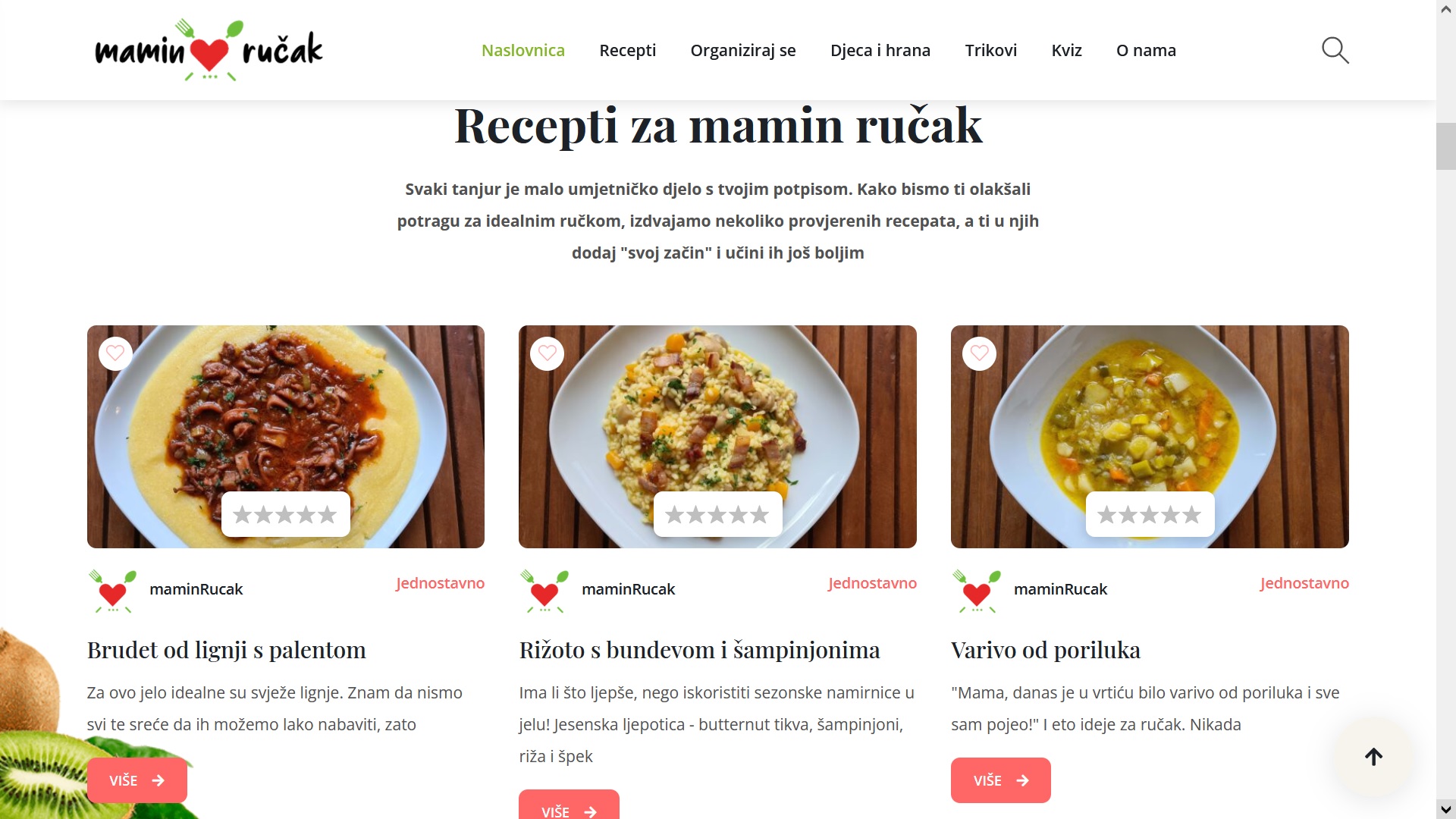 Mom's lunch isn't just another culinary internet / facebook / instagram page. What can interested visitors find on it?
My mother's lunch is my view on breastfeeding, the introduction of complementary foods, my view on how to cook for children to be healthy and eat a variety. Food is not just a meal, it is health, lifestyle and lifestyle. I write all the blogs on the site from my own experience. No beautification and filters. The internet is full of pictures of perfect mothers, and I want to show a realistic picture of motherhood. If my lunch burned down that day and he deserved to be on the blog, because behind that burnt lunch lies a much deeper story that only my mother knows.
The photos of the dishes are simple. White plate and dish on it, without decoration and additional content. The focus is on what's on the plate and simplicity. The dishes shown on the maminrucak.hr website are everyday dishes with easily accessible ingredients. They serve as inspiration for what to cook from Monday to Friday, when we need the most simplicity, right? Mom's lunch is more than a dry recipe. He is an emotion that only a mother can give to her family. It's a taste to remember. We can all cook lunch according to the same recipe, but the final product always has a different taste and aroma, because each mother adds to it a special spice of love she feels for her family. That's Mom's lunch!
You have three sons. How do they participate?
They really enjoy creating Mom's lunch! They often ask me questions: What are we cooking today ?, Are we shooting today ?, Can I be the head chef today? It makes them happy when we cook together and go to the market and to the store. The older son who, of the three of them, was the biggest picker, is now in charge of compiling the weekly menus. His menu includes a variety of stews, soups, fish, pasta with vegetables and so adored breaded meat. The middle son loves to make cakes. He invents recipes out of his head. The youngest son is two years old and it is not clear to him what is happening around him. He is currently in charge of the biggest mess in the kitchen and he is doing great – great! The husband does not like to interfere in the kitchen, he is the main one for the tasting.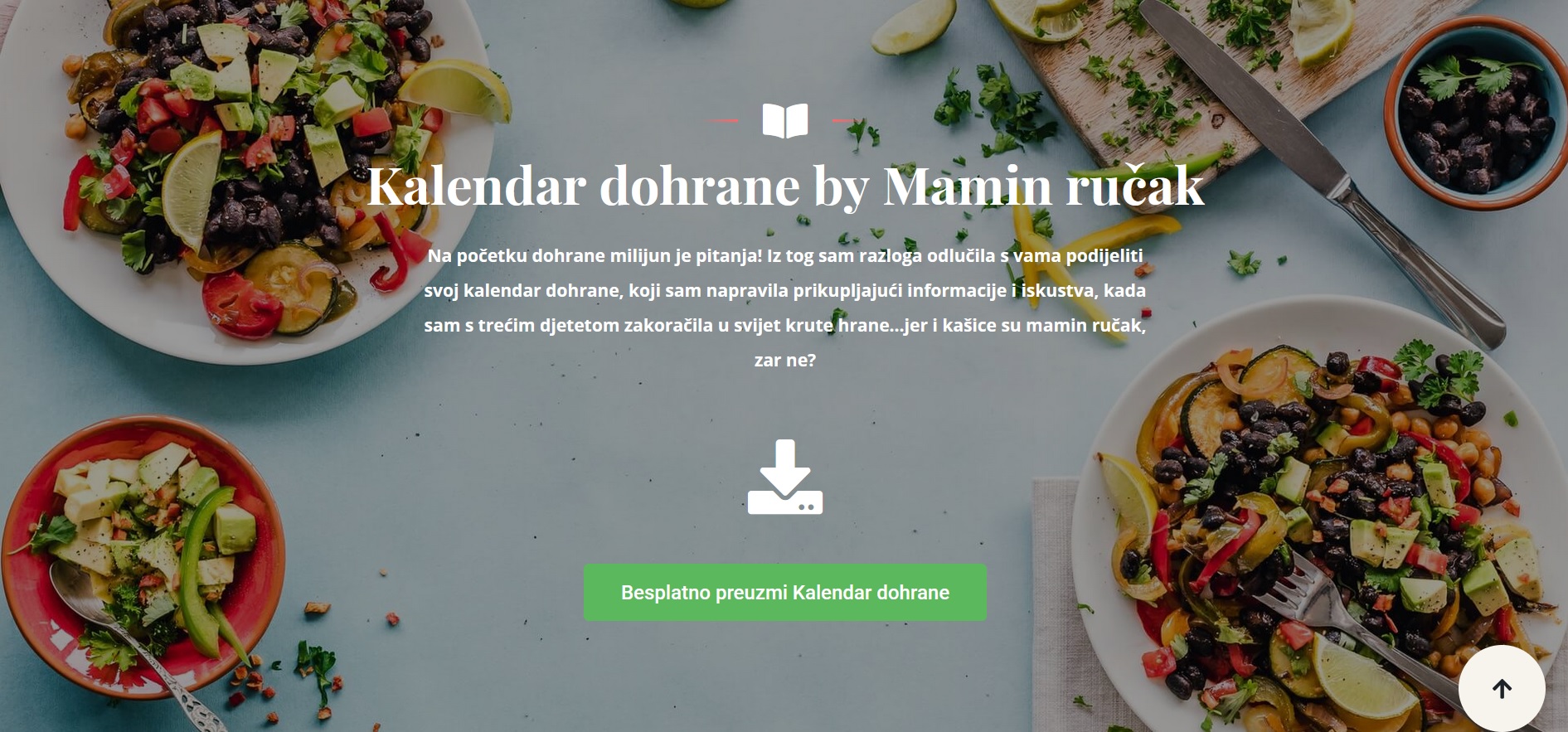 In addition to delicious and simple recipes with seasonal ingredients, on the maminručak.hr blog you can also find information on how to organize the kitchen, time, wallet and tips on breastfeeding, baby feeding and the importance of physical activity for children and adults, which is very helpful nowadays .